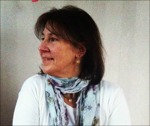 My name is Annika and I live
in the north Sweden.
I have work in a veterinary clinic in in a lots of year in Umeå. My job was very intresting and I learning a lot. Now i work in a shop.
I have breed dogs since 1978. From the beginning it was my mother and I who started Nellwood's kennel. We breed at that time collie and it has also been other breeds. In the end of 1999 I got my first chow chow. Her pedigree name was Kringelmyras Kiran. So, over years I have got a lot experience of breeding, different breeds and now chows.
I have also completed the Swedish Kennel Club course for breeders. It includes everything about dogs as anatomy, behaivor, genetic, swedish law, matings, whelping and food.
I have also completed the course "The dog as a profession".
Our dogs who go into our breedingprogram are all officially x-rayed on hips/elbows and scanned at the Swedish Kennel Club or FCI.

We work hard to have a healthy breed, and we use both recommendations and our own common sense.
Our breedinglines are an mix between the Nordic, Dutch, English and American bloodlines. We are working for a healthy Chow Chow and breed not at dogs with extreme exaggeration that makes them unable to live a normal life.
We breed not on sick and defective dogs at all.